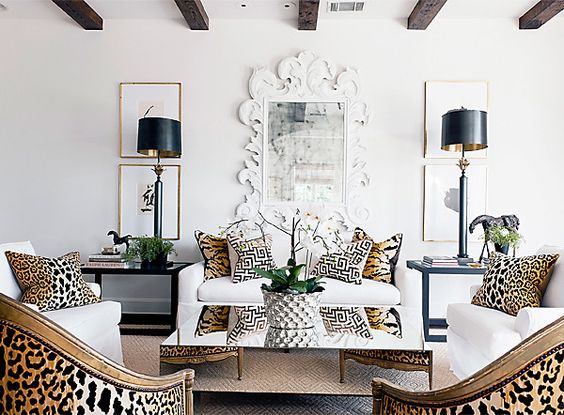 The strongest of the pack always survives and animal prints is one of those trends that keeps sneaking up on us over and over again.
The fashion houses have yet again revived these iconic prints which has affected the home interior design world resulting in a wide selection textiles and wallcoverings with prints ranging from leopard and snake to tiger. Being bold and using a mix of animal prints is a trend that requires courage, but it will make you the fastest animal on the savannah. 
Our Interior Design Studio – Estuco Interiors believes that Marbella is the right place for a splash of these patterns and it will give your home a touch of exotic wilderness. 
Den starkaste I flocken överlever längst och djurmönster är en av de trender som alltid fortsätter att dyka upp framför oss år efter år. 
Modehusen har återigen livat upp mönstren med sin egna touch och har inspirerat allt från tyger till tapeter och väggmålningar. Trender idag har visat oss att det är snyggt att mixmatcha och det gäller även här, idag ser vi de alldeles största märkena inom både modevärlden och inredningsdesignvärlden, som blandar mönster från zebra och leopard till ormskinn och tigerränder. I dagens läge handlar det om att våga och det är precis vad designföretagen gjort, vilket blivit en succé som verkar bli en trend som håller i. Vårt team tror att detta är något som passar alldeles utmärkt här i Marbella för att lyfta fram liv i ditt hem. 
Att få in mönster som dessa i inredningen är ett väldigt enkelt sätt att ge den där exotiska touchen och vi hjälper dig gärna med det här i vårt showroom i Centro Plaza.